Logo
You bring the imagination!
Highlights
Contact Us
Address
Ramon Theater Programs
Ramon Theater Rentals
Ramon Memberships Available
Business and Civic Programs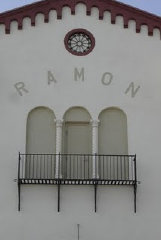 15 East Wall Street
Frostproof, Florida 33843 Phone E-mail (863) 635-7222
info@ramontheater.com
Donate to the Ramon Theater
The Ramon Theater was built in 1925 by Frank and Vera Thompson. It was a source for a variety of entertainment from vaudeville to movies. The Ramon Theater was designed by architect Leo Elliott, who was well known for his Mediterranean-style architecture.
The Frostproof Chamber of Commerce bought the building in 2002 and sought funding to restore the building. It took $1.3 million to fund the theater's long list of needed repairs, with the chamber receiving $750,000 in grants from the State of Florida's Department of State & Historical Resources, plus additional funding from the Polk County Board of County Commissioners, and donations from local and former Frostproof residents for the restoration.
Board of Directors
Chevon Bacus - President
Wesley Wise - Vice President
Barbara Jordan – Secretary
Eric Hill – Treasurer
Diana Webster Biehl
Dede LeFils
Art Neher
Vicki Alley
Sara Bogart
Michele Decker